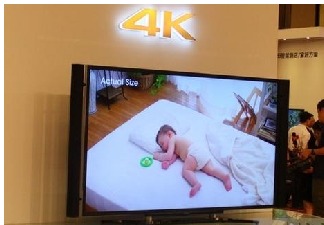 Ultra HD 4K still stays in the half-concept half-volume production phase, and the technology war has already been fiery. This week, Skyworth announced the launch of the industry's first full-color 4K TV 65E 900U, which is even clearer than Ultra HD. According to the interpretation of Liu Zhizhi, president of its color TV division, there are two ways to enhance the image quality: one is to enhance the definition, and the other is to enhance the color. The sharpness from SD to HD to full HD to 4K finally meets the needs of consumers, but there is still room for color enhancement. This full color gamut 4K series refers to the use of red and green two-color phosphors instead of the original yellow phosphors in LED backlights, and by increasing the concentration of 30% color filter, which means that it can be 35% higher than the normal 4K TV color gamut. . However, the reporter noted that the value of nearly 30,000 yuan is even more a bit louder and louder.
Another local color TV brand in Shenzhen is playing a speed battle against 4K. Konka recently launched the Supreme Master UD series TV in Shenzhen. Since it is equipped with an 8-core new chip, it can start at a second speed, and it can almost reach the point of view, without waiting for the traditional TV screen to gradually lighten. According to the reporter's observation, in the current Shenzhen market, the start of many smart TVs still needs to wait for tens of seconds or even more than a minute. "Turning on TV is slower than starting a computer," has always been a criticism of the smart industry. Not only that, after using a dual-channel PR O, it is also possible to use a television to receive two signal sources, that is, to enjoy two programs from one screen at the same time, and the amount of information received doubles.
Not only are the two major brands in Shenzhen "mutually" but they have long been eyeing each other. At the recent Chinajoy exhibition, many TV manufacturers focused on 4K products. Sony introduced the largest 84-inch X 9000 series. According to the reporter's observation, since last year, 4K ultra-high-definition television ushered in rapid growth, led by Changhong, TCL, Konka, Skyworth, LG and other domestic and foreign color TV companies.
According to Bai Weimin, the Secretary-General of the China Electronics Video Industry Association, from the perspective of full HD 3D, cloud TV, 4K ultra high definition and full color domain, domestic brands seem to be able to "grasp" the consumer market's minds more than technological innovations.
In fact, not only technical equipment, 4K price war is also playing in secret. Southern reporter visited the Shenzhen market and found that a 55-inch 4K TV quoted by TCL was priced at around RMB 10,000, gradually approaching the same specifications of high-definition TV. In Shenzhen appliance stores, the reporter saw a local brand in Shenzhen, a 55-inch ultra-high straight down 2000 yuan offer 8,999 yuan. The 4K sword refers to high-end products and also exerts a "leverage effect" on prices.
Cold Plate Copper Tube Heat Sink
Copper Pipe Heat Sink,Cooling Plate Heat Sink,Extruded Aluminum Heatsink,Cold Plate Copper Tube Heat Sink
Dongguan Formal Precision Metal Parts Co,. Ltd , https://www.formalmetal.com