Foreword
The ROHM Group has a variety of wireless communication technologies, including wireless LAN-led Bluetooth, ZigBee, and technologies such as specific low-power wireless for the 920MHz band that was opened in July 2012 in Japan.
By integrating technology with LAPIS Semiconductor, a group company, ROHM has the product advantages of wireless communication ICs to modules, and provides customers with communication ICs and modules that fully utilize the radio wave characteristics of various communication specifications. In particular, wireless communication ICs use LAPIS Semiconductor's low-power RF-CMOS technology and high-performance MODEM technology to achieve the industry's highest level of low power and wireless performance, which is also a feature of this type of product. .
Background introduction
Nowadays, with the increasing demand for wireless communication in various fields around the world, the requirements for high specification and high performance of technology are also rising. Especially in the field of industrial control, vehicle and other fields, due to the harsh environment, it is necessary to solve many problems to achieve universalization. In this regard, with its own "one-stop" production system from the IC, ROHM caters to the various needs of the market, and combines innovative technology to present a more complete and higher standard wireless LAN module, in terms of module technology. Get a new breakthrough.
ROHM pushes wireless LAN module "BP3580/BP3591"
This time, ROHM has introduced a new wireless LAN module "BP3580/BP3591" that supports the IEEE802.11b/g/n standard (shown on the right). ROHM's wireless LAN module "BP3580/BP3591" has been fully tuned, including the RF part, and has not only basic wireless LAN communication functions, but also Supplicant (client authentication) for authentication and encryption that is usually built in the host side. Software) and WPS (Wi-Fi Protected Setup, specifications for encryption settings between wireless LAN devices).
Not only that, but also the TCP/IP protocol stack is built in the module side, so that all network processing can be completed by the module. Therefore, it is easy to install a wireless LAN even if it is difficult to configure wireless LAN white goods and health equipment due to insufficient host resources. In addition to the surface mount type "BP3580", the antenna built-in type "BP3591 (interface to the host interface UART)" that is connected via a connector has been added to the product lineup.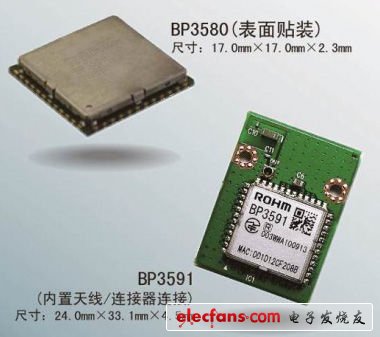 Figure: Wireless LAN Module "BP3580/BP3591"
With the built-in antenna, there is no need for a high-frequency design that requires a high degree of technical know-how, and the product has passed the Japanese domestic wave method certification, and can be used as a wireless device as soon as it is assembled into an accessory device.
"BP3580/BP3591" combines innovative technologies with unique advantages
The biggest feature of the "BP3580/BP3591" is the built-in Roma's own baseband IC (BU1805GU). By using self-produced baseband ICs, more complete development support and long-term stable supply can be achieved.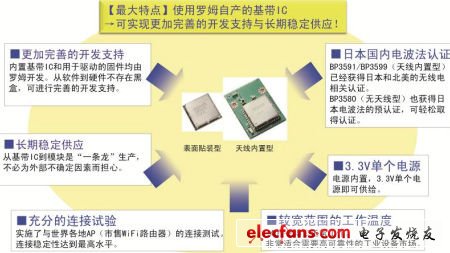 [Fig. 1] Characteristics of "BP3580/BP3591"
As shown in Figure 1, the baseband ICs and modules of the "BP3580/BP3591" products, as well as software and hardware, are developed by ROHM. Therefore, there is absolutely no black box (BLACK BOX) inside, which makes development support more complete. Similarly, the "one-stop" production system starting from IC will not be interrupted due to external factors, so long-term stable supply is also the strength of the product. In addition, a sufficient connection test was carried out to achieve very high quality connection stability. Regarding the certification of the radio wave method, the "BP3591 (antenna built-in type)" module has been certified by the Japanese and American (FCC) radio wave method as a whole. "BP3580 (Surface Mount Type)" is also ready to easily obtain the certification of Japan's domestic wave method. The 3.3V single power supply can be operated, and the operating temperature also covers the range of -40 ° C ~ +85 ° C.
Table 1 is a summary of the specifications of "BP3580/BP3591". The SDIO Universal and USB Universal are intended for use in a system where the TCP/IP stack is mounted on the host microcontroller side. The TCP/IP protocol stack built-in type is assumed to be used in systems where the RS-232C interface device is connected to the wireless LAN or in the system where the host microcontroller side is not equipped with the TCP/IP protocol stack. ROHM has prepared SDIO Universal and USB Universal and TCP/IP Stack built-in firmware for customers. The hardware of "BP3580/BP3591" is common. The model is selected by changing the downloaded firmware.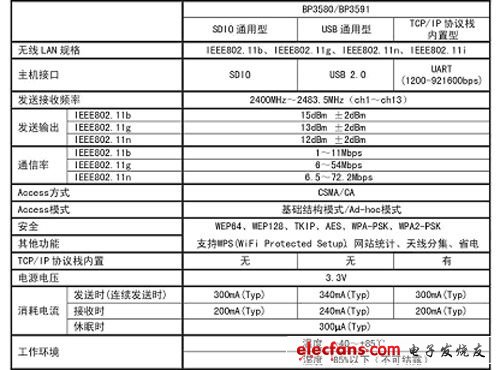 [Table 1] Summary of "BP3580/BP3591" Specifications

Robust and sleek design, Ip65 Touch Screen Monitor having surface water-proof specification.
Touch speed is less than 3ms, good accuracy; supports 10 point touch.
It good to be a parts on the enclosure, serve indoor , as a IP65 Touch Screen Monitor
Aluminum alloy + sheet metal structure, nosharp edges, wear resistant and anti-corrosive paint process, overall explosion-proof design
IP65 Touch Screen Monitor has been Widely applied on the public places: subways, airports, book stores, parks, exhibition halls, stadiums, museums,convention centers
IP65 Touch Screen Monitor
Industrial Monitor,Ip65 Touch Screen Monitor,Touch Screen All In One,Touch Screen Desktop Monitor
Guangzhou TouchWo Electronics Co.,Ltd. , https://www.touchaio.com