Recently, Stratasys, a global leader in the field of 3D printing, released the company's largest 3D printer to date, Objet1000, which can bring the world's best industrial-grade 3D model wide format printing to many industries, including automobiles , Defense aerospace, industrial machinery, consumer products, home appliances, and high-end service areas that require the production of industrial-grade 1: 1 size models.
Adhering to the guidelines for providing customized and personalized 3D printing solutions, Stratasys' 3D printers continue to challenge the highest level of mold forming and processing and manufacturing technology. The Objet1000 launched this time is also known as a masterpiece in the industry ---- -By providing perfect and precise shape and functional molding, Objet1000 combines a super-large, extremely convenient molding platform with advanced high-precision inkjet 3D printing technology and Stratasys' famous Connex multi-material function, and can be manufactured with 1000 x 800 x 500 mm wide molding dimensions.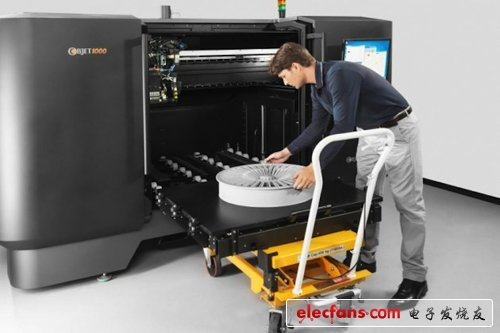 According to David Reis, CEO of Stratasys, "As our largest 3D printing system to date, Objet1000 takes advanced inkjet 3D printing technology to another level. With this system, our customers from all walks of life can quickly , Effectively make any one-to-one size solid model, from airplanes and cars to complete appliances. Objet1000 represents the future trend of 3D printing technology revolution. "
"Objet1000 eliminates the need for manufacturers and designers to assemble small parts into models and eliminate the need for solutions that are less effective or less efficient," explained Gilad Yron, general manager of Stratasys Asia Pacific, "with 3D printing of the same kind An important difference of the system is that Objet1000 printing can present a 1: 1 shell effect of drilling, assembling and nailing screws, creating the same precise look and feel as complex assembled consumer products. At the same time, the system requires very little manual operation It's very simple to use. "
It is understood that the Objet1000 system has more than 100 materials to choose from, which is second to none in the industry, so designers and engineers can simulate the effects of standard and ABS grade plastics. At the same time, as with all Stratasys Connex 3D printers, the Objet1000 can print 14 different material properties on a model.
Regarding the time to officially enter the market, Stratasys expects to ship the first batch of Objet1000 to a few customers in the second quarter of 2013, and increase market efforts in the second half of 2013.
Objet1000 advantages :
The system is ideal for 3D printing of very large, refined 3D models
• Provides unmatched versatility, including "Fit Fit", "Shape Form" and "Functional Funcional" applications, enabling designers and engineers to simulate various engineering plastic materials
Print tray size 1000 x 800 x 500 mm (39 x 31 x 20 inches)
Accurate 3D printing of ultra-large and ultra-small, refined 3D models
Stratasys Connex's proprietary multi-material 3D printing technology
Abundant uses and applications to meet the needs of shape, fit and function verification
Analog standard and ABS grade engineering plastics
Large resin material box, very reliable
Only a small number of operators are required
Reasonable operating costs ensure that companies get a faster return on investment
Very suitable for automotive, defense aerospace, consumer products, home appliances, industrial machinery and professional services
About Stratasys
Stratasys Ltd (Nasdaq: SSYS) is a legal person enterprise formed by the merger of two 3D printer manufacturers of American Stratasys and Israel Objet in 2012. The company produces 3D printers and related materials for prototyping. Before the merger, the two companies' total revenue in 2011 was $ 277 million. Its patented FDM® and inkjet PolyJet® technologies can manufacture product prototypes or finished products directly from 3D CAD files or other 3D stereo data. At present, enterprise products include affordable desktop 3D printers that can be used for design and conception, a series of prototyping systems, and direct digital output large-scale manufacturing production systems. The company has the most extensive 130 types of 3D printing materials in the industry, including more than 120 proprietary inkjet photosensitive resin materials and 10 proprietary thermoplastic materials based on FDM technology. Stratasys also produces Solidscape 3D printers and operates RedEye On Demand digital manufacturing services. The company has more than 1,000 employees, has more than 500 AddiTIve Manufacturing patents worldwide, and has won 19 awards for its advanced technology and leadership.
The Mirror Wire are used for car recorder and car backing radar.
What does our product include?
| | |
| --- | --- |
| 1 | JST wire harness |
| | FH-----0.5mm ZH-----1.5mm |
| | SH-----1.0mm PH-----2.0mm |
| | GH-----1.25mm VH-----3.96mm |
| | EH/XH-----2.5/2.54mm |
| 2 | Molex wire harness |
| | PicoBlade-----1.25mm PicoClasp-----1.0mm |
| | PiciLock------1.0/1.5mm Minifit Jr-----4.2mm |
| | MicoBlade-----2.0mm MicoClasp-----2.0mm |
| | MicoLock-----1.25/2.0mm |
| 3 | IDC flat ribbon cable |
| | Contact material----Copper alloy |
| | Test voltage------500V AC |
| | Current rating-----1A |
| | Cable Technical Data: |
| | Contact Material----Tin plated copper |
| | Isolationswiderstand-->1000MΩ |
| | Insulation Resistance-->1000MΩ |
| | Temperature range----- -40℃.....105℃ |
| | UL Typ---------UL2651,28AWG |
Mirror Wire
Mirror Wire,Turn Signal Mirror Harness,Mirror Wire Harness,10 Pin Connector Wire Harness
Dongguan YAC Electric Co,. LTD. , https://www.yacenter-cn.com